In the early 1900s, a young Swede named Claus Wallin immigrated to America with his family who established a farm in Indiana.
Young Claus, however, quickly grew tired of farm life and, when the Ringling Circus came to town, the teenaged Claus seized the opportunity and hopped on the circus train heading south.
When he arrived in Sarasota for the winter with the performers and other roustabouts, he fell in love with the picturesque little fishing village and with a feisty Indian-Irish woman named Irene Gallagher. He and Irene were married in 1920 and the young couple settled in Sarasota.
Irene's brother, Jessie Gallagher, was the best commercial fisherman at that time. Jessie fished the waters between Punta Gorda and Sarasota until 1985 and taught his new brother-in-law, Claus, all there was to know about the local waters. Claus worked the local waters for the next several decades, pulling in his own nets, setting his own traps and selling his catches to the community.
It was this heritage and work ethic that Claus Wallin handed down to his son, Walter Sr. By 1941, Walter Sr. was not only fishing the local waters but also was operating a fish market on Whitaker Bayou, but World War II interrupted these activities. After serving his country, Walter, Sr. moved to Indiana with his wife and two young boys, Walter Jr. and Tom, and he worked as a railroad worker until the mid-50s.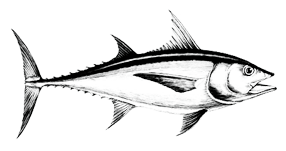 Eventually, the lure of fishing the bays and bayous of Sarasota brought Walter Sr. and his family back to Sarasota.
After his return, Walter Sr., with money from the GI Bill, opened the first Walt's Fish Market on 4th Street and Osprey Avenue. As he grew older, Tom began helping his dad with the family business.
Young Tom learned the trade while fishing at night and taking turns opening the market during the day. Tom grew up in Sarasota, graduated from Sarasota High School and eventually took over the family business from his father who passed away in 1981.
Tom used to say: "It was a pristine area then and Sarasota was recognized as a commercial fishing village. I used to fish all night, pulling my boat in front of the Ringling Mansion grounds and the Jungle Gardens looking for schools of mullet and other fish. All the fishermen were local then and, even though I was just a boy, we were all friends. I had a few sidelines too, I used to collect rattlesnakes on Siesta Key and sell them to Texas Jim between $2.00 and $5.00. Texas Jim would use the rattlesnakes in his traveling snake show."
"The men who taught me were the real commercial fisherman. We worked all day and sometimes all night, year-round. Working alongside them, I worked the seasons… clams, mullet, scallops, crabs and oysters. We knew all the little bayous where grouper and snapper were plentiful. The waters were rich and productive, especially around Vamo Road, Blackburn Point and Siesta Key. We would get together, sometimes - as many as twenty of us putting out our nets. It was a thrill to pull them up and see all the varieties of fish. We even caught sharks." Tom would also say.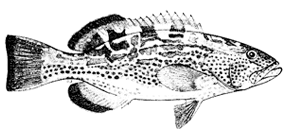 Walt's Fish Market thrived from the start.
In answer to strong demand, Tom began frying fish sandwiches for neighboring businesses using a makeshift fryer. Business became so brisk that Tom soon found he needed a commercial fryer. Customers were called upon to fold their own carry out cartons. Tom was astonished at the volume of orders. The original Walt's Fish Market was quickly outgrown.
As was the case with his father, his country called and, after his graduation from Sarasota High School in 1965, Tom served a tour of duty in the army. When he returned in 1967, Tom, again like his father, got a loan under the GI Bill and opened a new, larger, fish market and restaurant on US 301 and 6th Street. The market and restaurant flourished and again, in answer to demand, Tom opened another fish market and restaurant at 4144 S. Tamiami Trail. Walt's has remained at this location to the present day.

For several decades, Tom and his wife, Linda, ran the restaurant and fish market business both at the US 301 and S. Tamiami Trail locations as well as several other locations.
When they were old enough, Tom and Linda's children, Tommy Jr., Brett and Megan, joined in running the family business. After graduating from High Point University in 2001, Brett joined his father in continuing to run the family business. In August 2006, Tom succumbed to cancer after a long and valiant fight.
Since then, Brett has not only continued to run the family business, but he has brought it to greater success than perhaps ever before. Tom always said that Brett was more like his great grandfather, Claus, than either he or Walter Sr. While an astute and enterprising marketer, Brett, like Claus, prefers fishing the local waters. Just about every day, if you rise early enough, you will see Brett in his boat heading into the Bay where he catches the freshest local fish, crabs and other seafood to sell at Walt's.

Walt's is the ONLY Sarasota market and restaurant, and one of few in Florida and the entire country, to sell you fish and other seafood literally caught the day you buy it.
In 2012, the restaurant and kitchen were totally upgraded and renovated. An authentic Chickee Bar was also built, adding live music and outdoor dining to what was already one of Sarasota's favorite restaurants. On the wall of the Chickee bar hang the pictures of the four patriarchs of Walt's: Claus, Walter Sr. Tom and Brett.
The success of the market and restaurant is directly attributable to this long heritage, to Walt's great and loyal staff and to the continued support of the local fishermen whose roots with the Wallin family have now traversed four generations. These all combine to guarantee that the quality of fish you buy and consume is the freshest and best you can get anywhere, at any price.
We hope you enjoyed your time and your meal at Walt's, and we look forward to your future visits. Let us know if we can be of further assistance in making your time at Walt's the best ever!
The Wallin Family & Crew