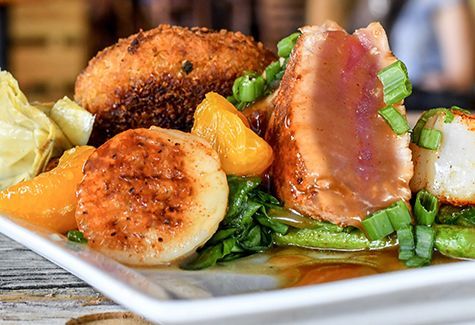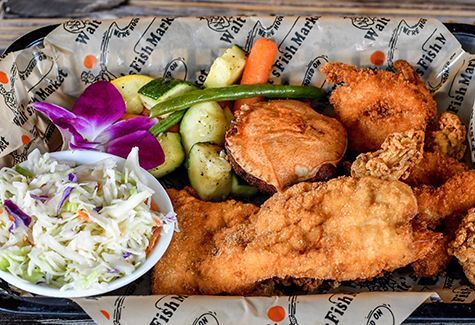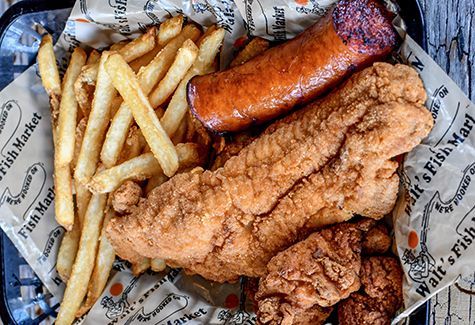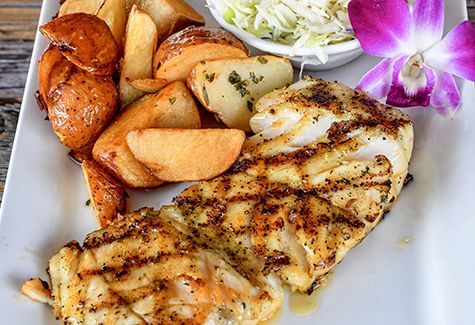 Our Raw Bar consists of Oysters on the Half-Shell, fresh Florida Cocktail Shrimp, Walt's Famous Fish Spread, Blue Crab Cocktail Claws, Seared Yellowfin Tuna, cocktail sauce, soy sauce, lemons, horseradish, hot sauce, teriyaki sauce, saltine crackers, plates, napkins and plastic wear.
Seafood is displayed in an original Teak Wood Boat, full of ice with lights shining through the ice.
All catering jobs are tailored to the client's needs and wishes.
All cuisine is prepared and cooked on premises to ensure the best quality possible. We manage small to very large events such as weddings and fundraisers. The owner, Brett Wallin, always manages events personally, from seafood and ingredient selection to serving the food, to ensure complete customer satisfaction. Please call or email us to get a customized quote and menu.
Email: Dylan@waltsfish.com
Phone: (941) 921-4605
Includes: 1.25lb Maine Lobster, Cedar Key Clams, P.E.I. Mussels, corn, potatoes, onion, coleslaw, lobster bibs, cocktail forks and lobster crackers!
PREPARED & READY FOR PICK UP - ALL YOU HAVE TO DO IS BOIL!
Dinner for 4: $150
Dinner for 5: $180
Dinner for 6: $215
Dinner for 7: $245
Dinner for 8: $280
Dinner for 9: $315
Dinner for 10: $350​
25ct Shrimp: $30.00 (Serves 6-10)
50ct Shrimp: $60.00 (Serves 8-12)
75ct Shrimp: $90.00 (Serves 10-15)
100ct Shrimp: $120.00 (Serves 15-25)
150ct Shrimp: $160.00 (Serves 25-35)
Fresh Yellowfin Tuna seared rare with sesame seeds, garnished with soy sauce, wasabi and picked ginger.
Small Platter: $45.00 (Serves 10-15)
Large Platter: $85.00 (Serves 20-30)
Consumption of oysters can cause serious illness. Especially someone with liver, stomach, blood or immune system disorders. Please use CAUTION - Shells fragments may be present in shellfish, fish or smoked fish spread. Items are cooked to order and maybe served raw or undercooked. Consuming raw or undercooked seafood, poultry, meats, eggs and other foods will increase the risk of food-borne illness.